Manufacturer Willerby and technology pioneer Sunamp team up to lead holiday homes industry to green future
14 November 2023
Holiday homes manufacturer Willerby and technology pioneer Sunamp have revealed how they worked together to achieve a green breakthrough for the industry.
The two companies have collaborated to overcome a major barrier which has prevented holiday parks moving power supply from liquid petroleum gas (LPG) to cleaner, greener electricity.
Vital in the development of Willerby All-E specification
The partnership has played a vital role in the development of the ground-breaking Willerby All-E specification, which enables Willerby models powered solely by electricity to be sited on most holiday parks across the UK.
Development of the Willerby All-E system stems from teamwork between Willerby and Sunamp, a leader in thermal storage technology which this year received a prestigious King's Award for Enterprise for its excellence in innovation.
Sunamp's space-saving thermal battery stores heat from lower carbon energy sources, such as solar panels or a smart grid, before releasing it for mains pressure hot water.
Up to four times smaller than a regular hot water cylinder, Sunamp's thermal batteries are typically installed in places where a traditional water tank would not fit, such as apartments and smaller homes.
That means they are also ideal to be accommodated in holiday homes where space is at a premium.
The Willerby All-E system has been developed by Willerby's in-house technical and product development teams, with Sunamp's technology playing a critical part in resolving a key challenge.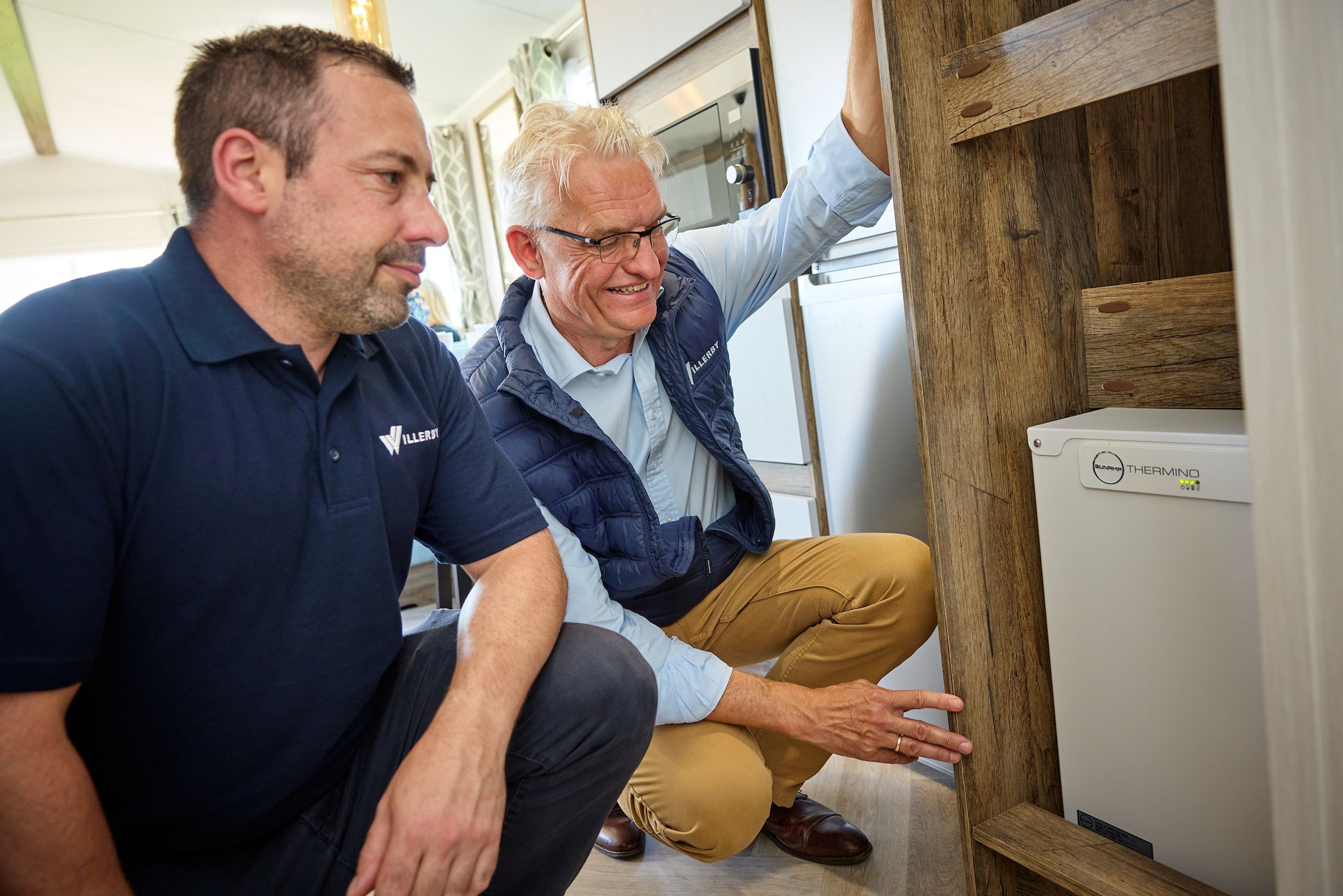 Compatible with holiday park infrastructure
Pitches on the majority of holiday parks across the UK only have a 32A electricity connection.
Just one high-pressure electric shower would normally exceed that 32A capacity. However, using Sunamp's Thermino heat battery, the Willerby All-E system is compatible with holiday park infrastructure.
Willerby CEO Peter Munk said: "Holiday homes powered solely by electricity are not new. However, in order to achieve the conversion to electricity it's often necessary to supply the same amount of power as you would to a traditional home.
"That's only possible on a very limited number of new holiday park developments, which would mean the size of the market for electric units would be small.
"We put our team to the task of overcoming this barrier and opening up the opportunity for holiday parks to incorporate homes powered solely by electricity.
"They managed to reduce the Willerby All-E specification to run on 64A, but that was still not low enough, as most holiday park pitches are capped to a maximum of 32A supply.
"It became clear to us that, to get the specification down to 32A, we had to think about things very differently. That's where our partnership with Sunamp came in.
"It's a great example of our combined expertise in product development, manufacturing and heating technology delivering a successful solution."
The Willerby All-E system uses intelligent technology to monitor, manage and optimise electricity usage at all times, to avoid the supply being exceeded. The system is equally effective in models with air conditioning.
Sunamp thermal battery is a key factor
A key factor is the role played by Sunamp's thermal battery, which has made it possible to separate central heating and hot water, thereby replacing the traditional combi boiler.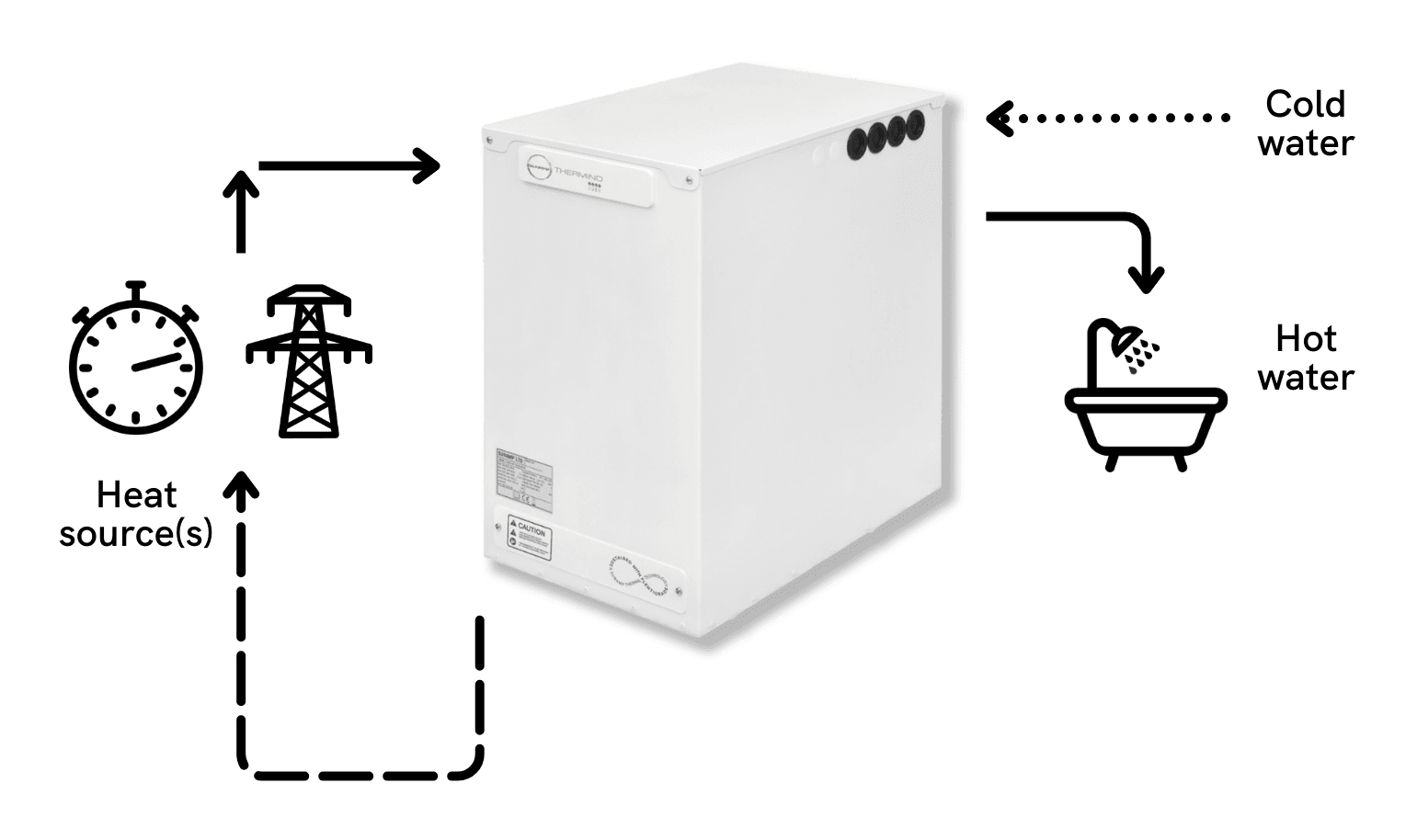 Sunamp's thermal battery provides hot water on demand, due to an innovative energy-dense phase change material called Plentigrade, developed and patented by Sunamp.
Plentigrade absorbs and releases thermal energy during a melting and freezing process, in a similar way to the gel in a pocket handwarmer. It uses latent heat to store energy on melting to a liquid and to release this energy at a controllable, constant temperature as it freezes to a solid.
Sunamp CEO Andrew Bissell said: "The technology inside our thermal batteries is proven – it has been installed and is running in more than 25,000 homes already.
"In many apartments and smaller homes space is at a premium, so gas combi boilers are installed to avoid the need for a hot water tank.
"It's very much the same inside a holiday home, where a hot water tank isn't a viable option, so gas combi boilers are in place.
"Willerby's mission was to enable a move from gas to electricity and to stay within a relatively low energy supply limit. That's where our thermal battery technology has made a critical difference.
"Willerby is the expert in holiday home manufacturing and had made tremendous progress towards a viable all-electric solution. Our technology was the final piece in the jigsaw."
Reducing carbon footprint and energy consumption
With holiday parks already offering one of the most sustainable forms of tourism, Willerby All-E enables holiday home owners to reduce their carbon footprint and energy consumption even further.
For holiday park operators, it presents an opportunity to enhance their sustainability credentials by transitioning from LPG to electricity, as well as encouraging the on-site generation of energy from renewable sources, such as solar panels.
Sunamp's thermal batteries can be coupled with solar photovoltaic systems, with the added incentive for holiday parks to sell the excess electricity produced from rental holiday homes. The batteries come with an exclusive five-year warranty, only available on Willerby units.
Unveiled at the Great Holiday Home Show in Harrogate in September, the Willerby All-E system builds on the pioneering Willerby GreEN Standard. Introduced last year across all Willerby's holiday homes, this green build specification makes Willerby models significantly more energy efficient and economical to run.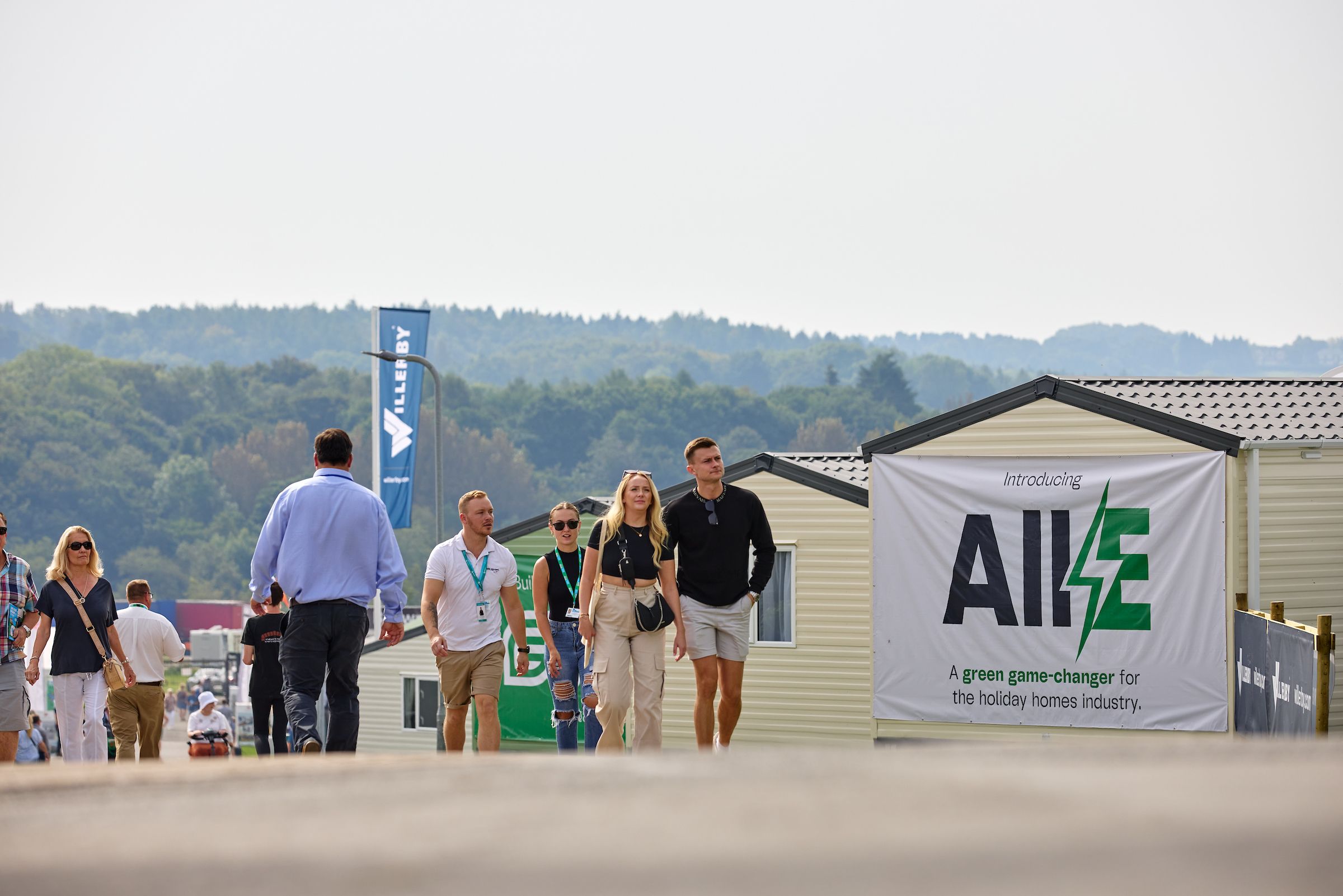 All of the manufacturer's models are now designed and built to the Willerby GreEN Standard, with Willerby All-E available currently as an option on the Buxton, Dorchester, Malton, Ellerton and Brookwood holiday homes. It will be available across Willerby's full range for 2025 models.
In addition to a raft of other changes to reduce the environmental impact of the company's operations, these innovations underline Willerby's status as the holiday homes manufacturing sector's leader for sustainability.